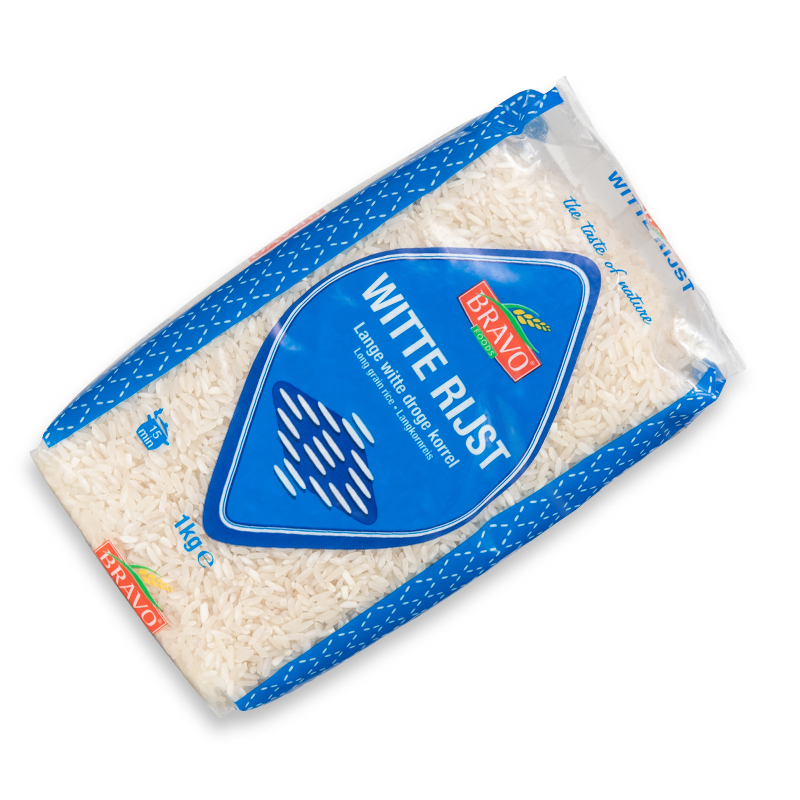 Witte rijst is de meest bekende rijstsoort ter wereld. Het wordt in bijna elk land gebruikt en het is een van de hoofdingrediënten van duizenden recepten.
Het heeft veel gezondheidsvoordelen, zoals een laag vezelgehalte.
Where does Witte rijst come from?
Er wordt aangenomen dat witte rijst afkomstig is uit de Yangce-rivier in China. Bij witte rijst zijn de schil, zemelen en kiem verwijderd, doordat de korrel helemaal is geslepen.
Gezondheidsvoordelen van witte rijst:
De beste verhouding tussen water en rijst is 1,5:1 (1 kopje rijst / 1,5 kopjes water). De optimale tijd voor het koken van Witte rijst is 12-15 minuten.
– 3 cups cooked Bravo Foods Witte Rijst (leftover rice is perfect)
– 1 tablespoon vegetable oil (divided use)
– ½ cup finely chopped onion
– ½ cup chopped carrots
– ½ cup chopped red bell pepper
– ½ cup frozen peas
– 2 teaspoons minced garlic
– 2 eggs (lightly beaten)
– 3 tablespoons soy sauce (or more to taste)
– 1 tablespoon toasted sesame oil
– salt and pepper to taste
– optional: sliced green onions for garnish
1. In a large wok or skillet, heat 2 teaspoons of the vegetable oil over medium high heat.
2. Add the onion and carrot to the pan, cook 3-5 minutes or until softened. Stir in the red bell pepper; cook 2-3 minutes more. Add the garlic and cook for 30 seconds.
3. Season to taste with salt and pepper. Remove the vegetables from the pan, place them on a plate and cover to keep warm.
4. Pour the remaining teaspoon of oil into the pan; add the eggs and cook, stirring occasionally and breaking up with a spatula until the eggs are scrambled and cooked through. Season with salt and pepper.
5. Add the rice, reserved cooked veggies and frozen peas to the pan. Stir in the soy sauce and sesame oil and mix gently until everything is thoroughly combined and warmed through, 3-4 minutes. Season to taste with salt and pepper, add more soy sauce if desired.
6. Serve immediately, sprinkled with sliced green onions if desired.